Once you become ratified, it is time to do a few checks to ensure that the home you are buying is free of problems and defects. This is called the Inspections Stage, and with the help of your Realtor Specialist, you will decide which inspections are necessary in your particular case.  
While the buyer is responsible for paying for the inspections, it is definitely worth the money. The Nellis Group will negotiate to make sure all the problems found in the inspection stage will be fixed by the sellers so that you don't end up moving into a new home and fixing things.
We always recommend a home inspection to protect your interests. The inspector will go through the house and accessible areas, both inside and outside, to check for safety issues. Inspectors will check for problems with the foundation, wiring, pipes, and appliances. A home inspection is NOT the same as an appraisal.
The following are a few of the other inspections that you may end up wanting to run on the house. Inspection costs vary on a case by case basis, and the average costs are just an estimate.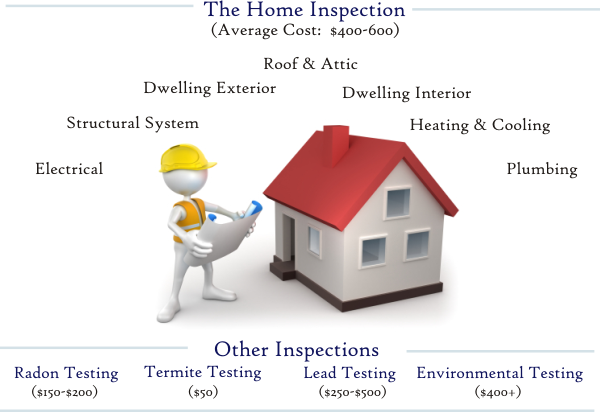 Every client is entitled to select their inspector for any inspection on the property. However, since any items missed become the responsibility of the client, the Nellis Group recommends that you utilize one of the inspectors that have worked with our clients in the past and have provided exceptional service.

We call these trusted inspectors our Advantage Partners, and we are confident that you will be in good hands if you choose to use their company. (Note: The Nellis Group receives no financial benefit from recommending these partners; we care about our clients and want to make their experience as comfortable and as pain-free as possible.
Below is a list of our Advantage Partners:
Virginia Home Inspectors:
Maryland/DC Home Inspectors:
Radon Inspectors:
Mold/Environmental Inspectors:

AdvantaClean of Northern VA - (571) 488-9724
Greg (AerobioLogical Solutions, Inc.) - (703) 920-6653
If the property is on Well/Septic systems, below are some useful links:
Well: 
Chris Froemel - Greenway Engineering
Direct: 540.662.4185
Septic: 
Five Star Septic - 703.716.0707
Bell Pump and Well - 703-249-1395
SES Mid Atlantic - (571) 292-3106
==========================================================
Prices of Home Inspections usually vary based on the size and structure the of property. Below is the average pricing over the last 3 years:
Condo Fee: $250-300
Townhouse/Rowhouse Fee: $350-450
Single Family Home Fee: $450-550
Luxury Single Family Home Fee: $550-700
Average Price of a Radon Test: $150
   Thank you again for placing your trust in The Nellis Group. Call your Agent with The Nellis Group for any additional questions about your contract.