Our Results
83%
Business from referrals
About Étienne Eaton
Étienne Eaton is a 4th generation Washingtonian who attended the University of Maryland in neighboring Prince George's County. Growing up, his family spent weekends and summers in Annapolis, Maryland, on the Severn River. To this day, Étienne escapes to Annapolis to enjoy boating on the Magothy River and the Chesapeake Bay, crabbing, fishing, and dining in East Port. 
A former collegiate track athlete, Étienne is an avid sports enthusiast who enjoys attending Washington Capitals, Nationals, Maryland (GO TERPS!), and Commanders games. When time permits, you can find him on his bike zooming through the streets of Washington D.C. and now Manhattan.
 In 2021, Étienne began the current chapter of his life by moving to NYC (Manhattan), where he currently lives on the Lower East Side.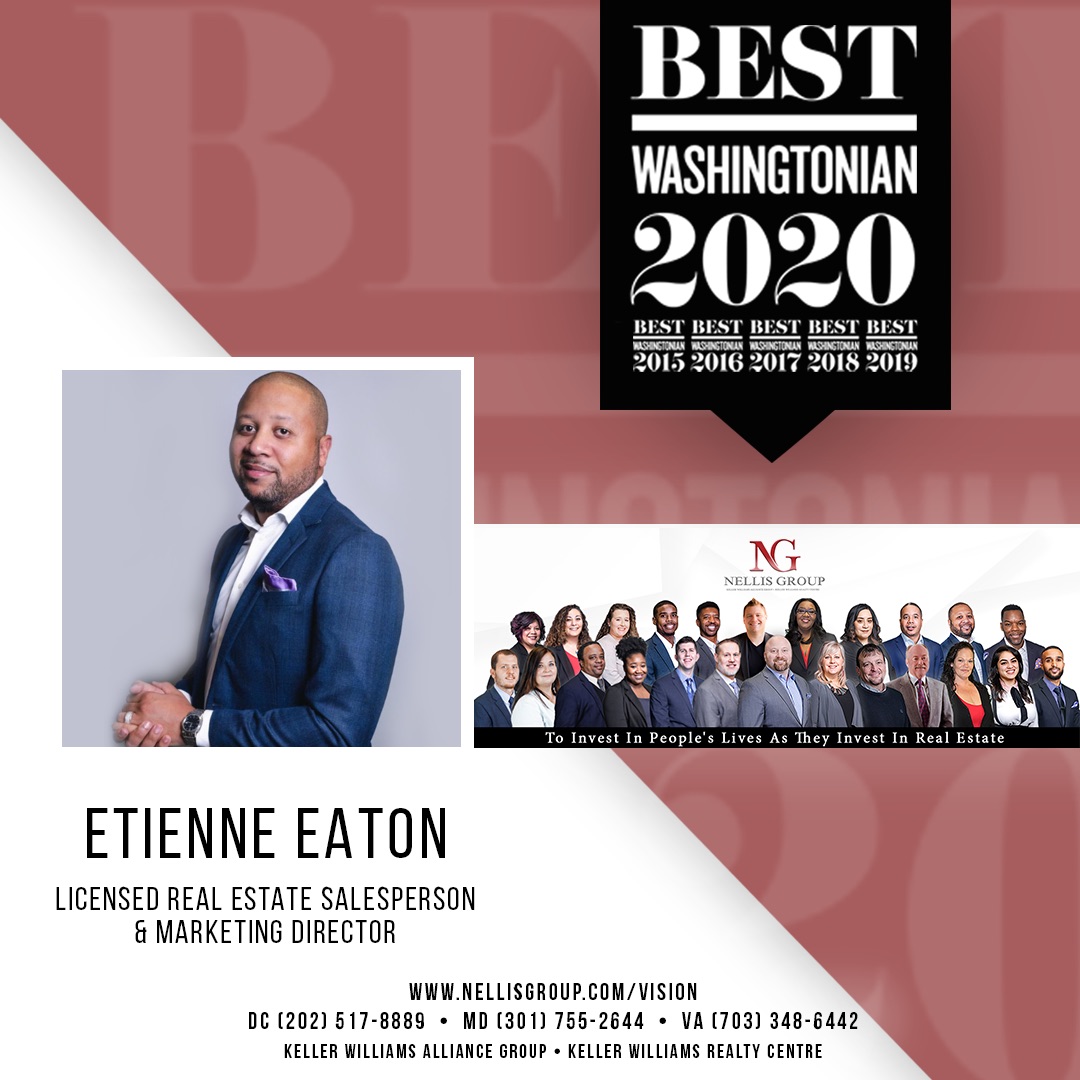 Professional:
Étienne worked in the Federal Government (U.S. Department of Homeland Security, FEMA) for 12 years before leaving Emergency Management behind to pursue a Marketing and Brand Management career with Apple Inc.
Taking a leap of faith to align his new career path with his passions for real estate, renovating, and building homes, Étienne earned a position with the acclaimed Keller Williams top producing Nellis Group Team as the Head of Marketing, and eventually Brand Manager.
At the Nellis Group, Étienne discovered his passion for working with and for Start-ups and Small Businesses. Because start-ups and small businesses have a much smaller number of employees (typically fewer than 50 full-time employees,) it is essential to be able to gap fill, wearing multiple hats to execute the company's mission.
Étienne is a licensed Realtor in Washington, D.C., and a member of GCARR.
Having successfully executed the daunting objectives required of the Director of Marketing, Étienne was promoted to Marketing Director of Legacy Elevated, a new start-up and offshoot of The Nellis Group. So currently, Étienne holds two positions that he expertly balances.
Étienne's business philosophy is influenced by many years of working with the legendary real estate Mogul, James Nellis, whose Social Fusin book and seminar helped form his approach to marketing and Brand Management.
In addition, I have learned the following:
"Patience- good things take time.
Integrity- purity of intention.
Reliability- creates respect.
Industriousness- there is no substitute for hard work and meticulous planning.
Cooperation- listen if you want to be heard. Be interested in finding the best way, not your way.
Skill- a knowledge of and the ability to execute the fundamentals properly and quickly.
Enthusiasm- truly enjoy what you are doing."